In our continuous effort to improve the deviantART experience, we're publishing weekly Site Updates to keep members informed and to gather feedback. Below is a list of recent changes to the site, bug fixes, and feedback that was brought up by members in the
last Site Update
.
What's New
DeviantART is proud to announce our Premium Content Platform — providing the ability for content creators to become sellers and generate real earnings by making digital files of their high-quality work available for download. Sellers are able to set their own prices while retaining 80% of all revenue earned, and buyers are able to quickly get the things they want with the satisfaction of supporting the artists they love.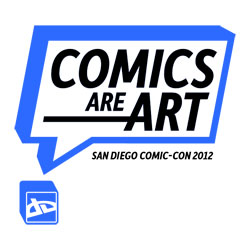 Every year, San Diego Comic-Con hosts a gallery of artists in what's known as Artists' Alley.  And, for the second year in a row, it's with great honor that deviantART is proud to sponsor the Alley!  For those of you unable to make it to San Diego, allow us to paint a picture for you!  

Change Log
Muro
Sta.sh
Sta.sh Writer
Some users like the way we gather suggestions currently, as it ensures that staff interacts with the community. Others would like to see a more unified means of gathering feedback/suggestions. "There's three very different places to suggest things, not including individual messages to staff members" neurotype pointed out.
In response to the emoticon legend suggestions from last week, Satsumo mentioned several other suggestions for improvement.

Kat-Anni and several other members mentioned that they'd like to see a public list of suggestions that are being considered (or not considered).
KinnoHitsuji brought up several Group suggestions, including being able to organize affiliates, alphabetizing gallery and favourite folders, and being able to view a list of Groups a user is a member of when submitting a new deviation.

 Discuss
Our new 
Premium Content Platform
, which is being rolled out to members over the next several weeks, allows artists to sell  high-quality content — everything from comics or stories for download, to high-res files like .PSDs, textures, tutorials, brush packs, and more!
If you've sold your content in the past, or are planning on doing so now, what type of content are you interested in selling? Our Platform is in Beta and we will be continuing to upgrade it, so we'd like to know what types of content members are most interested in so that we can better support them.
  Have a suggestion, idea, or feedback? Leave a comment on this article!
 Find a bug? Report it to the Help Desk! (Be as detailed as possible!)